Peaches & Plums & Pears….oh my!
16th
March 2011

Closed
var _gaq = _gaq || []; _gaq.push(['_setAccount', 'UA-6597970-2']); _gaq.push(['_trackPageview']);
(function() { var ga = document.createElement('script'); ga.type = 'text/javascript'; ga.async = true; ga.src = ('https:' == document.location.protocol ? 'https://ssl' : 'http://www') + '.google-analytics.com/ga.js'; var s = document.getElementsByTagName('script')[0]; s.parentNode.insertBefore(ga, s); })();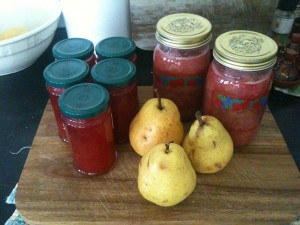 My good friend UrbanFarmer gave me a delicious jar of her poached pears recently, which inspired me to grab all those end of summer stone fruit and poach them so I can eat yummy stone fruit all through winter on my porridge, muesli or in a wicked crumble. YUM!
Nothing to it really:
(1) choose your fruit (plum, apricot, peach, nectarine) add an apple or new season pear to round out slightly bitter flavours
(2) slice up fruit – my preference is for large pieces of fruit but its really up to you
(3) place in a saucepan large enough for all your fruit pieces and cover with water and the juice of 1 lemon. You can also add some castor sugar for sweetness if you like this is up to you but I wouldn't add more than  3/4 cup otherwise you'll enter jam territory.
(4) cook until fruit start to gently break up and adjust sweetness to your taste.
(5) at this point you can simply transfer to a container and eat or you can spoon into sterilised jars and store for future use. Its that easy.
p.s if you are feeling particularly Urban Nanna-ish you are welcome to send me your recipes to publish for other readers (and me) to try.
🙂

Tags: cooking, food, gourmet, seasonal, slow food
Filed under: Heritage